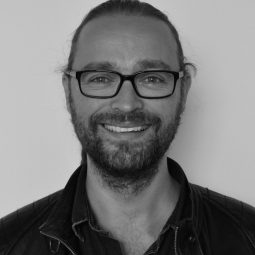 Rasmus Birk
Lecturer, Guitar, Ensemble Teaching
Assistant Professor Rasmus Birk is a guitarist, composer, producer, and performing musician, teaching at The Royal Academy of Music (RAMA) – Aalborg. Rasmus teaches in rhythmic guitar (pop/jazz), ensemble playing, music technology, music theory/ear training, various flex-courses and he's responsible for the the sound studio.
Education
Diploma-educated Rhythmic Music Teacher from Nordjysk Music Conservatory, Aalborg.
Study
Drummers Collective in New York
"The Rhythmic High School", DK – the sound engineering line.
Musician
Broad experience with, for example: theater, tv, revue, and many different genres through other musical tasks eg rock, pop, jazz, funk, fusion, etc.
Released "The Sum Of Me" (RB Records 2011), various youtube originals and as a bandleader to Aalborg"s best 2014-15.
Teacher
Has taught guitar at all levels since I was 18 years old, and is now teaching at all levels at RAMA's IM-educations: bachelor, masters and the soloist programme.
MGK Aalborg, guitar workshops at home and abroad, guest teacher at Aalborg University.
Endorsed by Lunastone Pedals: https://youtu.be/ScpKlAq9z9E