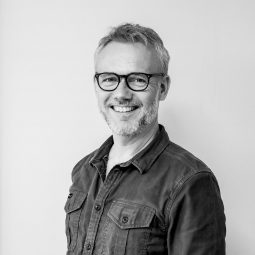 Jim Daus Hjernøe
Professor, Jazz/Pop Choir Directing
A Musical Innovator and Visionary Leader
Jim Daus Hjernøe stands as a distinguished figure in the world of music and education, holding the prestigious position of full professor at the Royal Academy of Music in Denmark (RAMA). His journey as an educator and choir director has not only transformed the landscape of vocal music but also earned him global recognition.
At the heart of Jim's remarkable career lies his leadership at the RAMA Vocal Center, an institution internationally renowned for its pioneering work in Jazz/Pop Choir Directing. His impact extends far beyond the walls of the academy, reaching teachers, students, and collaborators across the globe.
Since 2002, Jim has dedicated himself to the pursuit of improvisational vocal art. His pioneering spirit led to the creation of the groundbreaking Vocal Painting (VOPA) technique, which has become an integral part of his revolutionary teaching concept known as The Intelligent Choir (TIC). This methodology reflects Jim's profound musical philosophy: to empower vocal leaders to inspire their singers. His goal is to foster a sense of shared initiative and responsibility within the musical process through co-creation and the transformative experience of making music together.
To learn more about Jim Daus Hjernøe and his groundbreaking work, visit his official website at www.theintelligentchoir.com.