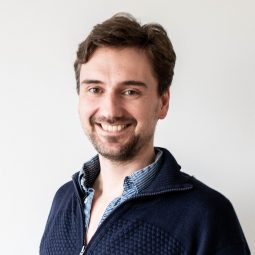 Frederik Munk Larsen
Lektor, guitar
Widely aclaimed and sought after for his inspired interpretations of works from the early music to newly written works Frederik Munk Larsen is pursuing a path of uncompromising artistic quality and versatility.
He is an associate Professor in classical guitar at the Royal Academy ofMusic in Aarhus, Denmark. He currently he teaches a successful class of a adozen students there. FML studied at the Royal Academy of Music in Aarhus, Hochschule für Musik, Köln, and inBarcelona under the guidance of Erling Møldrup, Viggo Mangor, Prof. Roberto Aussel and Prof.Alex Garrobé.
His official Debut-recitals, November 2001, that marked the end of his studies in the soloperformance class received high praise in the medias and was a starting point for a busy career as a performer. Since then FML has given concerts in the South America, USA, Germany,Sweden, Norway, Finland, Spain, France, Estonia, Italy, England, Scotland, Turkey, the Faroe Islands, Argentina, China and Chile – both as soloist, in solo recitals and in different chambermusic constellations.
In the 2013 season he appeared as a soloist with the Orchestras Copenhagen Philharmonic and Aarhus Symphony Orchestra in Concertos by J. Rodrigo and the Carl Nielsen Prize winner, Simon Steen-Andersen. In 2006 he premiered Simon Steen-Andersen's monumental guitarconcerto,"Amongst" together with the Aalborg Symphony Orchestra. Former soloist performances include concerts with Athelas Sinfonietta, Cph, in Norway at "Bergen International Festival". Together with Bandoneon virtuoso, Cesar Strocio he was a soloist in Astor Piazolla double concerto on several tours, both in Europe and South America between 2008 and 2010.Composers like Bent Sørensen, Svend E. Nielsen, Niels Rønsholdt, Simon Steen-Andersen,Christian Præstholm, Morten Ladehoff and Jeppe Just Christensen have all written soloworks for Frederik Munk Larsen and he has premiered or taken part in the premiere of more than 100 works.
He is a member of Scenatet ,Curious Chamber Players (SWE), Duo Hellqvist/Munk, Trio VozNueva and has performed frequently with Aarhus Sinfonietta, Athelas Sinfonietta Copenhagen, Esbjerg Ensemble, Ensemble 2000 and Det Jyske Ensemble.A Winner of numerous prizes both as a soloist and chambermusician, he was awarded a. o. the"DAAD Jahresstipendium" (96-98), the "Irgens Berg's artists grant", the "Ejnar Hansen prize"; hewas the 1st prize winner of the Yamaha of Europe's music competition, Scandinavia, (1998) andprizewinner with the trio Voz Nueva in the National Danish Radio's "Chambermusic Competition" in 2004. Numerous appearances in national radios in all of the European countries. He appears on 12 CD's, solo and with various ensembles on the labels Dacapo, Classico and Danacord.His solo CD "Within", received high praise in "THE GRAMOPHONE", april 2011, under theheadline: "Four contemporary Danish guitar composers captures Heart and Mind" . the criticdescribings Munk larsen playin: " Munk Larsen proves a most capable advocate for these works,with his fluency and enthusiasm such that rigour and spontaniety crackle through every bar"The release includes new repertoire by Bent Sørensen, Niels Rønsholdt, Simon Steen-Andersenand Jeppe Just-Christensen.
In the summer 2013 he launched "Klangveje", an unusual 600 km concert-summmer tour that byfoot took him through a large part of Denmark. During 18 concerts and 26 days he performed withlocal musicians and co-premiered 8 works by regional composers
FOKU:
KLANGVEJE – ARTICLE.
http://www.musikkons.dk/fileadmin/Lyd/FOKU/Postere/Klangveje_artikel_FIN.pdf
Study on the impact of muscular tension on sound control and timbre on the classical guitar:
https://www.musikkons.dk/index.php?id=2600
GUITAR GRADER (Method for children):
https://www.musikkons.dk/fileadmin/pdf_musikkons.dk/Om_konservatoriet/Forskning/Forskningens_døgn/2012/12_2012_FML_Guitar_Grader.pdf
https://www.noder.dk/guitar-grader-1-guitarskole-for-begyndere.html
CD: MUSICA IMPURA, with Trio Voz Nueva
https://itunes.apple.com/dk/album/voz-nueva-musica-impura/id651141514
SOLO CD: WITHIN
https://itunes.apple.com/dk/album/within/id400818554