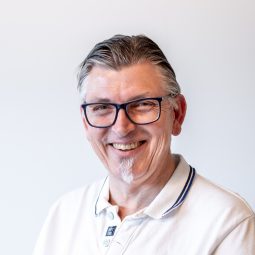 Niels-Ole Bo Johansen
Professor, Trombone
Employed at The Royal Academy of Music, Aarhus in 1989 and since 2000 as professor of trombone.
In the years from 1980-86 Niels-Ole Bo Johansen was a bandsman in the army and from 1986 till 2000 he was a member of the Aarhus Symphony Orchestra. He forms a duo with organplayer Ulrik Spang-Hanssen, "Civil Servants Duo" which to this day still performs in Denmark as well as in the rest of Europe. Furthermore he is founding member of the Aarhus Sinfonietta. As a soloist he has been featured in several cd-recordings.
Niels-Ole Bo Johansen is recipient of the Danish Composers Societys Musicians price. Niels-Ole Bo Johansen has performed at numerous of the International Trombone Associations festivals and hosted the ITF in 2009 in Aarhus.
Beside his teaching and playing obligations Niels-Ole Bo Johansen often guest conducts the regional elite brass bands (Silkeborg Blæserne, Nordvestjysk Brass Band and Aarhus Brass Band) as well as judicating local, national and international brass and wind band competitions.
Niels-Ole Bo Johansen has recorded intensively:
· Alpha & Omega (1994) (PACD 87)
· Duo Concertante (1995) (CLASSCD 122)
· Trombone and Electronics (2002) (CLASSCD 452)
· Bent Lorentzen Concertos (2004) (Dacapo)
· Niels Viggo Bentzon: Chamber Music for brass instruments (2006) (CLASSCD 722)
· Per Nørgård: Works for Brass (2006) (CLASSCD 730)
· Hans Henrik Nordstrøm Nueage d´automne (2007) (Dacapo)
· Per Nørgård: It´s all his fancies that (2010) (CDK 1016)
· On the Edge (2010) (CDK 1046)
· Wayne Siegel Terra (2011) (Dacapo)
· Etudes (2011) (CDK 1058-60) (tripple CD)
· Identity problems (2018) (CLASSCD1172)
· Amalgam (2018) (CLASSCD1173)
· The French Connection (2018) (CLASSCD1174)