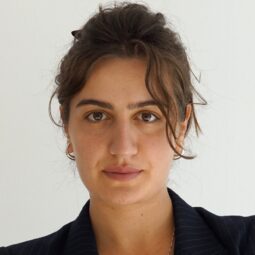 Sophia Sagaradze
Timelærer, komposition, programmering
Sophia Sagaradze is a sound artist, composer, producer and performer from Georgia based in Denmark.
She holds a master's degree in electronic composition (DIEM) from the Royal Academy of Music, Aarhus, and a bachelor's degree in classical composition from Tbilisi State Conservatoire.
Currently, her artistic work focuses on multichannel electronics, sound spatialization, interactive installations, and multidisciplinary performances. In 2022 she received a talent prize in composition from Carl Nielsen and Anne Marie Carl-Nielsen's Foundation.
Sophia has performed or exhibited her works at Northside Festival, Aarhus Festuge, Klang Festival, Immedia, Clang Festival Rotterdam, RADAR live, Turkis,  Regelbau 411 and many more.
Sophia is also a founder and leader of Aarhus Lydforening (ALF). ALF is a shared working space, that will act as a hub for creative ideas and a sustainable environment with shared equipment for working on electronic compositions, sound art, and surround sound systems.
Since August 2022 she has been a lecturer at the Royal Academy of Music Aarhus/Aalborg. Teaching: Programming, Interactive Projects, Enterepereuship, Composition, Live Performance