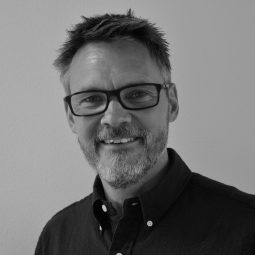 Jesper Holm
Lecturer, Jazz/Pop Choir Directing
Jesper Holm is main subject teacher in rhythmical choir leading at RAMA. Here he teaches conducting/body language, rehearsal methodology, and piano score playing. He teaches at all the international Boot Camps in Aalborg and he is in front of the developing process of distance learning with study groups and piano score playing.
Jesper is also a guest teacher at Sibelius Academy (Finland), supervisor and main subject teacher at Nord University (Norway) and has been a part of the process of building up the Vocal Leadership education at Codarts and Fontys (Holland).
He also does lectures and workshops in many EU countries and China. E.g. the World Symposium on Choral Music, Europa Cantat, Aarhus Vocal Festival, Polyfollia France, Kurt Thomas Conducting Course NL, China International Choral Festival, Nordklang and Vocal Jazz Summit, Mainz.
In addition to his classical conducting education, Jesper has spent the past 20 years developing his expertise in conducting technique for contemporary music. His work with his vocal jazz formation Touché has provided him with the experiences he now uses as the basis for his teaching.
He has sampled and developed conducting tools and methodology for innovative pop & jazz choir leading in what he calls: Conductor's Toolbox.
His a cappella jazz ensemble Touché (12 singers), with its unique performance, marks both nationally and internationally and has frequently shared the stage with groups like Danish Radio Big band, The Swingle Singers, The Real Group, and New York Voices.
www.conductorstoolbox.com
Facebook: @conductorstoolbox