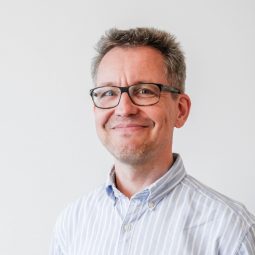 Jens Christian Kofod Kwella
Associate Professor, Guitar, Ensemble Teaching
Jens Christian Kofod Kwella (b. 1967) graduated from Det Jyske Musikkonservatorium (The Royal Academy of Music, Aarhus, Denmark) in 1997, where he was educated as a guitarist and teacher. In 2000 he received a diploma examination in guitar and advanced teaching practice.
Mr. Kwella is experienced in all genres within the field of jazz, from traditional jazz to experimental electronic jazz, and has performed and toured with many Danish bands, foreign bands, and soloists.
Since 1990 he has acted as a conductor and composer for his own ensembles. He has released six CD's under his own name wich all have thrilled the critics and he has been descriped as one of the leading guitar players in Denmark.
He is very active as a performing musician and plays approximately 100 concerts each year. Watch some examples here.
In parallel to his work as a performer, Mr. Kwella has had a substantial pedagogical responsibility as a lecturer at The Royal Academy of Music, Aarhus and Aalborg, DK, Vestjysk Musikkonservatorium (The Academy of Music and Music Communication, Esbjerg, Denmark) and at Musikvidenskabeligt Institut ved Aarhus Universitet (The Department of Aesthetic Studies, Musicology Section, at Aarhus University). Mr. Kwella has primarily taught guitar, ensemble playing and music theory, but has also been a tutor for various graduate and undergraduate projects.
Since 2010 he has worked as Associated Professor in jazz guitar and ensemble at The Royal Academy of Music, Aarhus and Aalborg in Denmark.
His work as a guitar pedagogue has consisted of teaching both technique as well as the traditions of jazz, whilst at the same time stimulating and developing the creativity of his students.
He has compiled a jazz guitar compendium in English which covers the majority of areas guitar students touch upon during the course of their studies.
As a teacher of ensemble skills, his interest have been to integrate "the traditional" with "the personal" in the individual students. The work is conducted by teaching both the standard repertoire in jazz, at the same time as the students write their own music – most often in smaller ensembles comprising 4 – 8 people.
In his teaching of both guitar and ensemble playing, he believes that it is important to concentrate on practical skills which can be utilized directly in real-life performing situations.
His theory teaching has been based primarily on harmonic analysis according to the Berklee system, as well as voicing and arranging techniques. He has created several teaching materials and arrangements in conjunction with his teaching.
He speaks Danish, English and German.