New Music for Strings Festival 2023: Sound as Image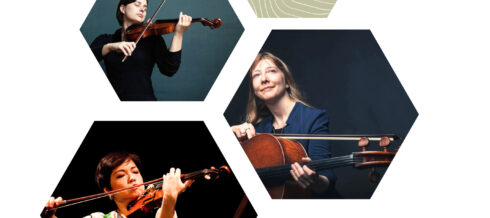 Can music be "translated" into video art or even sculpture?
Experience the premiere of audiovisual works written for the festival by award-winning international composers and visual artists!
Works by Natasha Barrett, Sofie Meyer, Bara Gisladottir, and Gérard Grisey.
Featuring
Taïga String Quartet:
Cæcilie Balling and Louise Gorm, violins
Isabelle Bania, viola
Kirstine Elise Pedersen, cello
Sofia Ericson, flute
Patricia Martín Gonzales, clarinet
Anne Sophie Andersen, violin
Isabel Gehweiler, cello
Anne Sofie Sloth Nilausen, piano
Derek Kwan, video art
This concert is co-presented with AUT
New Music for Strings
The vision behind New Music for Strings is to create an interdisciplinary space between the fields of string instrument performance and composition.
Theme: Sound as Image – What happens when artists interpret sound as image? Can music even be "translated" into visual art, or the other way around? These questions are at the center of the 2023 festival, with public concerts and lectures.
There will not be tickets for this concert - please come early.
More events