Vinterjazz: Acoustic Negotiation & Celebration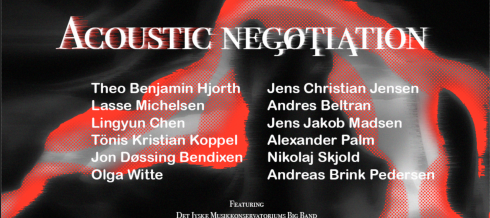 Vinterjazz-concert with a huge program in two parts precenting new music open to both randomness and strict rules. Duration about 2½ hour.
Part I: Acoustic Negotiation
Acoustic negotiation is a joint concert where 12 different composers will present electronic and acoustic experiments, and where both improvisation and composition are represented. On stage the acoustic instruments' tonal character and the computers' metric precision are challenged.
The concert will be performed in Symfonisk Sal, where the giant concert organ will be used and the brilliant acoustic will be brought to live and challenged by a 3D sound setup. The music will be supported by auto reactive visuals made especially for the concert.
Feat.:
Theo Benjamin Hjorth: piano/composer
Lasse Michelsen: guitar/composer
Lingyun Chen: violin/composer
Tönis: bass/composer
Jon: synthesizer/composer
Olga Witte: organ/composer
Chappe: saxophones/composer
Andres Beltran: visuals
Jens Jakob Madsen: laptop/composer
Alexander Palm: laptop/composer
Nikolaj Skjold: laptop/composer
Andreas Brink Pedersen: laptop/composer
RAMA Big Band
Part II: Wayne Siegel: Celebration (2014)
Celebration is composed for robot-controlled pipe organ and weather satellite and was originale commissioned by Hallgrímskirkja in Reykjavik, the largest church in Iceland. The church houses a huge pipe organ built by the German organ builder Johannes Klais, who also build the organ in Symfonisk Sal in Aarhus.
The piece is composed and performed by a computer connected directly to the organ without human intervention. The work is based on compositional ideas and techniques developed for Siegels 12-hour composition Everyone Talks about the Weather (2013) for robot-controlled pipe organ and weather satellite, which explored the idea of controlling the organ directly from a computer and with signals from a weather satellite. In Celebration this ideas are supplementet by variations on melodies from six different traditional Icelandic psalms.
There will not be tickets for this concert - please come early.
More events