Inauguration Concert: Petra Poláčková, hon. professor, guitar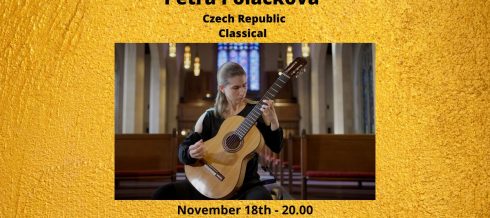 Czech Petra Poláčková has won a number of competitions and has performed and given masterclasses at several guitar festivals in a large number of European countries as well as in Israel and the USA.
The American music magazine "Cleveland Classical" wrote: "Poláčková's playing was so technically secure and musically insightful, it was unimaginable that anything she played could possibly be difficult." (Cleveland Classical)
At this concert, Petra Poláčková will be officially appointed as an honorary professor at the Academy. With the appointment, Academy begins a closer collaboration with the Czech guitarist.
Aalborg Guitar Festival
The concert is part of Aalborg Guitar Festival, Denmark's largest guitar festival, 12-20 November. The festival offers concerts, competition and workshops at a number of different locations in Aalborg. In addition to this concert, Petra Poláčková teaches two days at a masterclass for conservatory and MGK students, and she sits as a jury member at the final concert on 19 November at the Aalborg International Guitar Competition.
Admission is free, but tickets need to booked: Book ticket (only 50 seats)
More events