Special KONSert Aalborg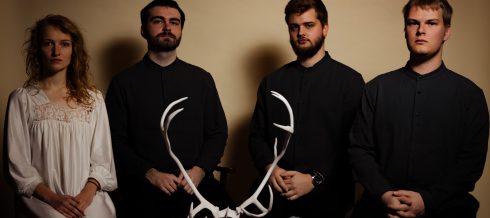 Live and stream.
Follow the concert online via RAMAs Facebook or Youtube sites:
https://www.facebook.com/musikkons.dk 
https://www.youtube.com/channel/UC5cW89NvgWeU4kWNngUX4Lg
Program
19.00: Ex Tempore
Ex-Tempore explores the sonic possibilities in a space created as harp and vocal performance meet with electronic music. Vera Armbruster and Jon Trout seek to broaden the perceptions of both their respective instruments by challenging listeners expectations of how harp, free improvisation, and electronic music can manifest. By placing the ancient instruments of harp and voice into a modern context driven by emotional immediacy, they improvise a sound sitting in liminal space between folk music and electronic ambient music.
20.00: Danefae
Danefae is a pensive and unique act on the danish prog rock scene. Their nordic vibe and expression manifests itself not only in the band's arrangements but also in their anish lyrics. The dynamic range of the band is wide – from intimate small interludes to big metal-inspired riffs. A stunning patchwork of sound that will leave you breathless in the best way!
Web: https://www.danefaemusic.com/
Instagram: https://www.instagram.com/danefae_music/
Facebook: https://www.facebook.com/danefaemusic
Review of album: https://heavymetal.dk/anmeldelse/danefae-tro

There will not be tickets for this concert - please come early.
More events