Pre-debut concert – Sarah Owens, trumpet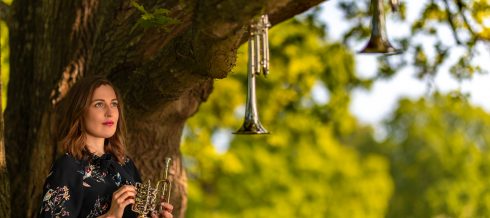 With this concert Sarah Owens, trompet, makes her debut from the soloist class at RAMA.
Sarah says: "I've assembled the programme over the last year to create a fun, challenging and special combination of works that naturally express my musical tastes. I've loved having the opportunity to explore how the trumpet fits into new settings and I hope that you'll also love the outcome of those explorations."
Program
Vivaldi: Concerto for Two Trumpets (ca. 1720)
Peter Østergaard: Foreign Home, for Trumpet, Cello and Piano (2023)
Deborah Anderson: Duet for Keys and Valves, for Saxophone and Trumpet (2013)
Claude Bolling: Toot Suite for Trumpet, Jazz Piano, Bass and Drums (1980)
Saint-Saëns: Septet in Eb Major Op. 65 (1879)
Featuring
Maria Eshpai
Martin Schuster
Joaquin Duran Rincon
Peter Østergaard
Maria Kolby Sonstad
Frederik Bulow
Agnes Hauge
Aoi Tomioka
Ole Ulvedal
There will not be tickets for this concert - please come early.
More events