Nordic Percussion Festival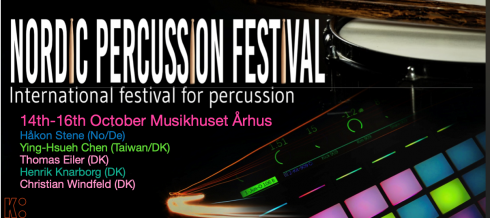 Morning Wake Up. Music for meditation, participation and waking up.
Henrik Knarborg, percussion
Hywen Davies: The Pond (marimba with electroacoustic)
Henrik Knarborg: InMusic (glockenspiel, audience participation and electronics)
Iannis Xenakis: Psappha – electro acoustic version.
Nordic Percussion Festival 2022
Improvising Mind – Global Unity – Celebrating the Artistic Presence
6 concerts in 4 exciting days in Aarhus. Program includes Prof. Håkon Steene (DE/N0), Henrik Knarborg (DK) and Ying-Hsueh Chen (Taiwan) among others. Festival days are 13th-16th of October 2022 in Musikhuset Aarhus.
This year Nordic Percussion Festival will be based on soloists and premieres since we are supported by the Danish Arts Council. Next year the festival will return to the previous concept of student-based concerts.
Artists
Håkon Steene, DE/NO
Ying-Hsueh Chen, Taiwan
Christian Windfeld, DK
Henrik Knarborg, DK
Thomas Eiler, DK
Nordic Percussion Festival on Facebook.
There will not be tickets for this concert - please come early.
More events