Marc Ducret & Beatriz Gijón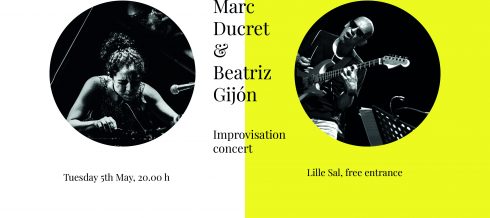 Soloist concert with soloist student at RAMA Beatriz Gijón and french avantgarde guitar player Marc Ducret.
Marc Ducret's music is a masterful example of how modern music contains both demanding and innovative improvisational composition in symbiosis with complex and conceptual score music, which makes it possible to remove the distinction between the "classical" and the "rhythmic". For the past 30 years, Marc Ducret has been in high demand both as a solo artist and sideman with Tim Berne, Jim Black, Bobby Previte, and many others.
As a composer and guitar player, Marc Ducret is on the cutting edge of the avant-garde. In the last decade, he has pioneered work in the intersection of improvised music and modern composition. Best exemplified by his Tower quadrilogy from 2011. An extensive compositional project for four different ensembles, which attempted to translate a series of Vladimir Nabokov's literary works into compositional and improvisational guidelines in a holistic musical language.
Beatriz Gijón is a Spanish improviser and composer based in Aarhus, where she's doing her Soloist education at Det Jyske Musikkonservatorium. Her artistic practice is based on the exploration of improvised performances, taking her to play/study with leading european improvisers as Agustí Fernández, Barry Guy, Chefa Alonso, Kresten Osgood, Kaja Draksler, Anto Pett and more.
With a background in classic and rhythmic piano/voice, and a special interest in polyrhythms and complex time signatures, she focuses on the use of sound, body movement and other media to develop original performances/compositions.She's also interested in integrating concepts such as ecology, community art, audience engagement, everyday art and specific-site art in her practice.
There will not be tickets for this concert - please come early.
More events