Lovely Spaces 1.1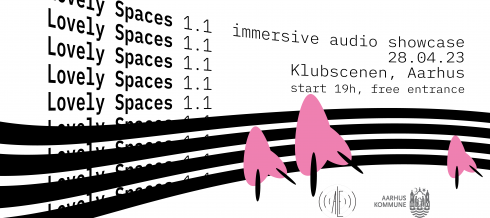 Belgian guitarist, composer and multimedia artist Ewoud Van Eetvelde is visiting the electronic composition programme DIEM at RAMA. In connection with the visit there is a concert at Klubscenen in Musikhuset Aarhus with its 40 speakers multi chanal system.
Together with DIEM student Andreas Brink Pedersen Ewoud Van Eetvelde will present the project Lovely Spaces 1.1, wich is an iteration of their first project Lovely Spaces 1.0 at Radar, Aarhus, in September 2022.
This time presenting the works of Ewoud Van Eetvelde and Andreas Brink Pedersen with a 40-speaker 3D sound setup: Immersive Audio Showcase.
Seeming to surround the audience, so that they feel completely involved in something, Lovely Spaces sets out to challenge the traditional understanding of space and how we interact with it during performances.
The two curators have thought out their relation to space and how it relates to them emotionally and bodily. This means 40 speakers surrounding the audience, combined with a colorful light experience.
There will not be tickets for this concert - please come early.
More events