GLOMUS Camp 2022 – opening night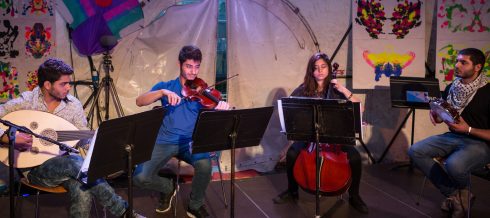 The concert marks the opening of GLOMUS Camp 2022, where 150 students and teachers from art shools from 25 different countries and from all corners of the world meet in Aarhus for a week of intensive cultural exchange.
At the concert, artists from all over the world will perform music and dance from many different cultures. All performers participate in the camp. The overall theme of the camp is GLOBAL OPTIMISM. The focal point is the generally humanity, where the participants will together investigate how interdisciplinary, intercultural art can play a role in a positive development in the world.
In continuation of the theme GLOBAL OPTIMISM, the concert in Rådhushallen is a sample of acts with different musical and artistic meetings.
Note: The concert is free but requires an admission ticket. There is only a limited number of places. Tickets can be ordered here: https://billet.aarhus.dk/MSO/glomus/. The concert lasts approx. an hour and a half.
Program
Dowda Jobarte & Admeta String Quartet
Maline
RMB Show
Gimo Mendes
Martin Sued
Miniaturer
More info (in Danish) about the program: Click Danish in the top menu.
---
The concert is a part of GLOMUS Camp 2022.
GLOMUS Camp 2022 is organized by GLOMUS (Global Music Network), which is an ambitious network for proactive music and art academies from around the world. The Academy is a co-founder of the network, which includes 25 partner institutions from all continents. This is the first time GLOMUS Camp is being held in Scandinavia.
Read more.
More events