Solist Concert – Marianne Sihvonen, flute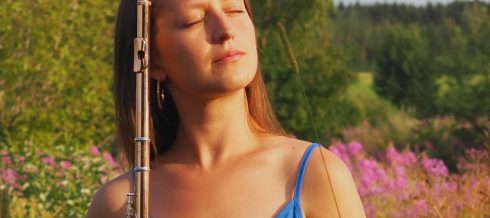 Marianne Sihvonen, flute, is a student in the Academy's soloist class.
This concert is a collection of some of the most beautiful tunes, sounds and elements that have got their inspiration from nature. Welcome to enjoy birds passing by, changes of light and darkness and the arrival of the sea fog.
Light and darkness, night and day.
We marvel at the mystery of the stars.
Moon and sky, sand and sea.
We marvel at the mystery of the sun.
Twilight, high noon, dusk and dawn.
Though we are mortal, we are Creation's crown.
Flesh and bone, steel and stone.
We dwell in fragile, temporary shelters.
Grant steadfast love, compassion, grace.
Sustain us, Lord; our origin is dust.
Splendor, mercy, majesty, love endure.
We are but little lower than the angels.
Resplendent skies, sunset, sunrise.
The grandeur of Creation lifts our lives.
Evening darkness, morning dawn.
Renew our lives as You renew all time.
Rabbi Jules Harlow
Marianne Sihvonen is a luminary flutist from Finland who is passionate about giving a voice to the works of living composers. She has premiered several new works by a new generation of composers, such as Sunleif Rasmussen, Ylva Fred, Ville Raasakka and Lauri Supponen, and is continuously working with new ones. Marianne is also a dedicated environmentalist. As one half of flute and guitar duo, HΛV, with the Faroese guitarist Alvi Joensen, she brings attention to various environmental issues in Nordic countries.
She has intensively toured around Northern Europe and performed in venues including Moderne Mandag concert series in Metronomen in Copenhagen, Nordic House in Tórshavn, Estonia Concert Hall in Tallinn, Malmö Live and Inter Arts Center in Malmö, Sibelius Museum in Turku and in several operas at the Alexander Theatre in Helsinki. She is currently pursuing Master's in contemporary music performance and composition (CoPeCo) at the Estonian Academy of Music and Theatre, the Royal College of Music in Stockholm, Conservatoire National Supérieur Musique et Danse de Lyon, and the Hamburg University of Music and Theatre. She is also enrolled in the flute soloist diploma programme at the Royal Academy of Music in Aarhus Lena Kildahl Larsen as her teacher.
Program
Messiaen: Le Merle Noir (1952)
Reinecke: Flute Sonata "Undine" (1882)
John Luther Adams: Strange Birds Passing (1974-80)
Saariaho: Changing Light (2002)
Corelli: Violin Sonata "La Folia" (1700)
(arr. for flute P. Gouin and for guitar A. Joensen)
Lil Lacy: Havgus (2022)
Featuring
Marianne Sihvonen, flute
Alvi Joensen, guitar
Maren Marie Tange, piano
Johanne Sofie Bech Madsen, soprano
RAMA's Flute Ensemble
There will not be tickets for this concert - please come early.
More events