Eyal Lovett Trio feat. Gilad Hekselman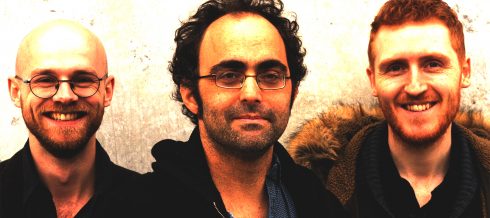 Eyal Lovett Trio is one of the most exciting bands working in Europe for the last 10 years.
This February they will be releasing their 4th studio album "Through the Rain". Celebrating this release with a tour, they will be arriving in Denmark with maestro Gilad Hekselman, perhaps the best known guitar player to arrive on the scene in the last 15 years. After collaborating with Gilad on their acclaimed 2nd album – "Tales from a forbidden land" they are meeting again for a 3 concerts series through Denmark main halls.
"The melody is Eyal's Lovett art form, a tune that really makes you think."
The new album presents uniquely expressive and lyrical music, searching for the beauty and wisdom that emerges after challenging times. The music is a combination of original compositions and Israeli folk music, drawing inspiration from the groove of modern jazz, the storytelling qualities of classical music, and the flavours of the music of Israel and the mediterranean.
"Lovett pens delicate, achingly beautiful melodies." 
This prize winning ensemble has been playing in the most acclaimed stages in Europe in the past years. Winning 1st place in Jazzwings Warsaw, Artist of The Year 2018 by Jazzy Berlin, performing at some of the best venues and festivals in Germany, Poland, Czech, Italy, Netherlands, UK, Israel and now Denmark.
Eyal Lovett Quartet – Hope Beyond Borders – YouTube
Gilad Hekselman – Verona (From Homes, Oct 2015) – YouTube
www.eyallovett.com
www.facebook.com/eyallovettmusic
Eyal Lovett – Spotify
www.giladhekselman.com
www.facebook.com/gHexMusic
Gilad Hekselman – Spotify
There will not be tickets for this concert - please come early.
More events