Curiosity Festival: Experimentarium II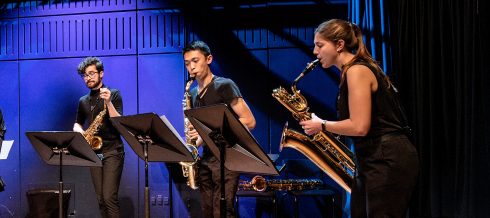 Curiosity Festival is a full day for the curious ear, from noon to evening. The genre distinction have been removed and the concept of concert is being expanded. Professional musicians and ensembles meet talented young conservatory students, and both students and established composers provide the music. At the evening concert, Århus Sinfonietta and Aarhus Jazz Orchestra play a brand new work together, written by Gorm Askjær in the tension between improvised music, big band jazz, New Music and everything in between.
---
Music by Academy students performed by ensembles feat. musicians from Aarhus Sinfonietta (AS) Aarhus Jazz Orchestra (AJO) and the Academy (RAMA):
Ensemble I:
Signe Madsen, AS (violin)
Johan Toftegaard Knudsen, AJO (alto & soprano saxophone, flute (also kaval flute), clarinet)
Alba Loja Ruiz, RAMA (classical Saxophone, ss, as)
Niels-Ole Bo Johansen, AJO (trombone)
Peter Prehn, AS (double bass)
August Frey, RAMA (classical guitar)
Jon Døssing Bendixen, RAMA (keys and electronics)
Yiran Xiong, RAMA (classical percussion)
Composers:
Jon Døssing Bendixen
Lasse Michelsen
Laura Veltri
Catalina Lazurca
Tina Geroldinger
There will not be tickets for this concert - please come early.
More events