Bigband Concert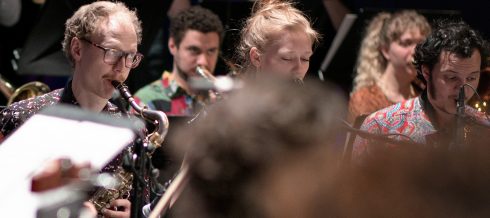 Guest teacher introduces Anthony Braxton
The Danish-American bass player Tom Blancarte is a guest teacher for the Academy's big band at this concert project. Through the project, the young students are introduced to the American saxophonist, etc. Anthony Braxton, who has composed over 400 works under the influence of many different traditions, from John Coltrane to Karlheinz Stockhausen. As an active musician, Braxton was, among other things, featured in Chick Corea's famous quartet "Circle" with Dave Holland and Barry Altschul.
Braxton is one of the most important thinkers and artists among experimental musicians born in the United States after World War II. As a composer, multi-instrumentalist, conductor, music theorist, teacher, etc. he has particularly worked with the relationship between improvised and structured parts of a jazz work. According to Braxton himself, all his works can be put together in unique ways according to the musician's choice.
At this concert, the students play a wide selection of Braxton's works. In keeping with Braxton's thinking, the students have composed their own unique path through Braxton's sound world, placing different pieces within and on top of each other, where more structured sections are connected by improvised sections.
There will not be tickets for this concert - please come early.
More events