CANCELLED: Bigband Concert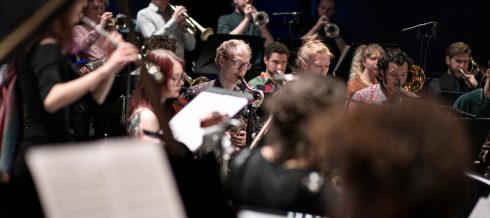 The concert is free, but a ticket is required – book it here.
More info (in Danish): Click Danish in the top menu.
Composers
Nikola Bankov
Nikolaj Borg
Anna Bignami
Thomas Cortes
Tom Irvine
Thorbjørn Ingemann Lervig
Domenico Mannelli
Margrethe Debel Christensen
Niels Hagner Mårup
Olga Witte
Peter J. Østergard
Ólavur Eyðunsson Gaard
Featuring
Vocal: Maline Heiberg
1. alto + Soprano: Nikola Bankow
2. alto + Soprano: Jeppe Cloos Petersen
1. tenor: Albert Burchard
2. Tenor: Morten Elbek
Baritone Sax + some clarinet: Niels Hagner Mårup
Trumpet 1: Gustav Hagner
Trumpet 2 og lidt 1: Peter J. Østergård
Trumpet 4: Halfdan Hesselager
Trumpet 3: Liva Bajda
Trombone 1: Jonathan Bruun Meyer
Trombone 2: Gerdis Marquardt
Trombone 3: (Bass) Nikolaj Borg
Guitar: Jacob Djursaa
Piano: Dan Hjort Jensen
Bass: Thomas Cortes
Drums: Ludvig Holde Søndergaard
There will not be tickets for this concert - please come early.
More events