Bigband Concert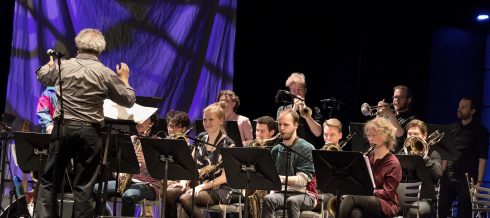 The academy bigband plays a program from their annual Christmas tour.
Musicians:
Johanne Sofie Bech Madsen (Denmark) Conductor
Emil Overmark (Denmark) Conductor
Iina Johanson (Finland) Vocal
Mai Linh (Germany) Vocal
Amalie Birkeland Steenstrup (Denmark) Flute
Hujie Chen (China) Clarinet
Jeppe Cloos (Denmark) Alto & Tenor Saxophone
Mark Hurrell (England) Tenor Saxophone & Clarinet
Gintarė Tumaitė (Lithuania) Soprano & Tenor Saxophone
Jens Chr. Chappe Jensen (Denmark) Baritone Saxophone & Bass Clarinet
Kristers Dreimanis (Latvia) Trumpet
Vincent Hahn (Germany) Trumpet
Matthieu Lebas (France) Trumpet
Jonathan Rosendal (Denmark) Trumpet
Ivan Buchreitz (Denmark) Guitar
Carl Comlan Lucas Zinssou (Denmark) Piano & Keyboard
Ebbe Kandborg Gade (Denmark) Bass
Christoffer Skovhus Christensen (Denmark) Drums
There will not be tickets for this concert - please come early.
More events