Concert feat. the Academy Big Band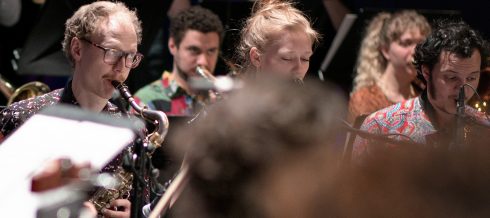 At this year's last concert with the RAMA Big Band four students at RAMA conduct their own works, which are written especially for the occasion
Jeppe Cloos Petersen has just returned from a semester in Ghana and has in this connection done his bachelor's thesis based on the dogma of writing original music for big bands with roots in West African rhythms. It will be energetic and festive and must be experienced. He collaborates with musicians from Godsbanen (institute for X) and African Footprint International, which is an NGO based in Cape Coast, with a network that extends all the way to Denmark.
Rasmus Dahl studies jazz/pop music pedagogics at RAMA, and he loves to venture into a variety of musical genres. At the moment he's playing a lot of folk and classical music, and in his own music this often melts together with his own long fascination with jazz and the first wave of progressive rock of the 70's. All Aboard The Sun Chariot is a short energy burst of a tune, in which the sun is portrayed in a sinister way. It all takes place in a stoner-rock inspired universe full of heavy riffs, bright chordal textures and fiery contrapuntal passages.
The trumpeter Dan Hejslet is known for his versatility and ability to move effortlessly between different music genres. He has performed with a large variety of musicians, bands, and projects. His compositions are characterized by a broad interest in music genres, blending small elements from each palette into a strong and expressive soundscape. "Eagles Nest" is about the image of an eagle that lives on Mount Everest. The composition tries to show a picture of a beautiful and majestic animal in a violent and unforgiving landscape. We follow the eagle's struggle for food and the harsh conditions it goes through, as well as a peaceful moment, where the eagle spreads its wings and glides through the giant mountains.
Cecilie Holst Jørgensen is 26 years and studies on the master in Classical Choral Conducting at the Royal Academy of Music Aarhus. Besides her studies, she is active as both conductor, singer and pianist in the choir- and church environment of Aarhus. Cecilie has grown up in a home with lots of old danish "schlager-music", which also has been the starting point for her two bigband-arrangements. Cecilie will conduct her own bigband-arrangement of "Ikke Spor Forelsket" from the Danish movie "Forelsket i København" from 1960, with the music of Bent Fabricius-Bjerre, and of Gitte Hænning's single from 1959, "Souvenirs". Besides a love for the music, the focus point of the arrangements is to break with the prejudices there are about the old Danish "schlager-music".
There will not be tickets for this concert - please come early.
More events