Solistkoncert: Trio Bohémo – In search of lost beauty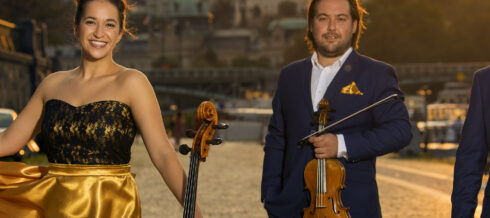 UDSOLGT.
Koncerten er gratis men kræver billet – book den her: https://billet.musikhuset.dk/da/specialoffer/6vde3ktj5pruw
Program:
Martin Brunner: Moving Silhouettes, (Danish Premiere) 10″
Žibuoklė Martinaitytė: In Search of Lost Beauty, (Danish Premiere) 70″
After their spring debut in Musikhuset, Trio Bohémo are returning to Aarhus with a contemporary music concert featuring two exciting danish premieres.
"They are the music that this world needs." Wigmore Hall Debut
"Precision, dedication and a spark of magic" From the critic in Göttingen for Trio Bohémo.
"Moving Silhouettes" is a newly written piece commisioned by Brno Philharmonic for the "Moravian Autumn" festival with a world premiere by Trio Bohémo in October 2023.
"Martin Brunner, a prominent Czech jazz pianist and composer, has taken his signature blend of modern jazz and thoughtfully composed harmonic progressions and created amazingly "feel-good" ten minutes of music for piano trio", says Jan Vojtek, pianist of Trio Bohémo.
"In Search Of Lost Beauty…" is an hour-long exploration of beauty. Composed for violin, cello, piano, electronics, and video, it aims to slow our perception of the world.
Comprising 10 sections, this piece captures the beauty of everyday moments, challenging us to appreciate the often-overlooked. Inspired by Claude Monet's "Water Lilies" series, it blurs the line between reality and reflection.
This project responds to our fast-paced, tech-driven lives, encouraging us to pause and experience the present Moment of Being. It was conceived during a creative residency in Paris, surrounded by the city's beauty, inspiring a deeper connection to the ephemeral nature of beauty itself.
Trio Bohémo, established in 2019, quickly gained acclaim for their exceptional musical talent. Notable achievements include winning second prize at the Gianni Bergamo Award, leading to acceptance into the "Le Dimore del Quartetto" network and being named Ensemble of the Year in 2021.
In 2021, they secured first prizes at the "International Johannes Brahms Competition" in Austria and the "International Parkhouse Award" in London. Their success continued with first prize at the "Stasys Vainiunas International Chamber Music Competition" in Lithuania and the top prize at the "International Joseph Joachim Competition" in Weimar.
In 2023, Trio Bohémo excelled with first prize at the "International Joseph Haydn Chamber Music Competition" in Vienna and third prize plus the audience prize at the "Melbourne International Chamber Music Competition", along with three special prizes at the "ARD International Music Competition." They made impressive debuts at renowned venues like the Vienna Musikverein and Wigmore Hall.
The trio's artistic growth was nurtured during their participation in the "European Chamber Music Academy" from 2020 to 2022, under the guidance of esteemed mentors.
Alle events