RAMA Vocal Center Summer Camp 2023
TBA for the 2023 edition of the summer camp
Welcome to an exclusive summer camp where choir leaders will meet a renowned team of RAMA Vocal Center educators, ensuring the highest pedagogical and artistic level of all.
This is a fun learning experience to explore some of the newest and most innovative working styles within 'rhythmic choir leading'. The participants and teachers are part of many collective sessions and activities in an interdisciplinary environment to accomplish a collaborative style of the summer camp.
Topics and Teachers
The Intelligent Choir and Vocal Painting (VOPA) – professor Jim Daus Hjernøe (DK)
Arranging, Composition & Interpretation – assistant professor Malene Rigtrup (DK)
Singers' Tools – honorary professor Peder Karlsson (S)
Conductors' Toolbox – assistant professor Jesper Holm (DK)
Date: TBA
Tentative Schedule TBA
---
Accommodation
RAMA is recommending Hotel Aalborg for your stay.
Special price for RAMA Vocal Center:
Single room: DKK 650/night incl. breakfast
Double room: DKK 975,-/night incl. breakfast
For booking contact (TBA)
Venue – Musikkens Hus in Aalborg, Denmark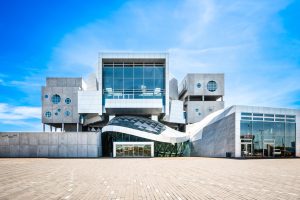 Musikkens Hus
Musikkens Plads 1
9000 Aalborg
Sign up – Conductors
Price – TBA. Food and accommodation are not included.
Sign up – TBA
Further information
Professor Jim Daus Hjernøe
RAMA Vocal Center
Take a look at the RAMA Vocal Center (Danish / English)
---
*) We reserve the right to make changes
We look forward to an inspiring summer camp experience together with you!