RAMA Vocal Center Summer Camp 2021
Due to Covid-19 the summer camp has been cancelled in 2020. Dates for 2021 TBA.
Welcome to a unique and international summer camp where choir leaders and vocal ensembles from all over the World come to Aalborg to meet a renowned team of educators, ensuring the highest pedagogical and artistic level of all.
This is a fun learning experience to get an overview of the newest and most innovative working styles within 'rhythmic' vocal music. How do you make vocal music sound just 'right' when it comes to styles such as pop, rock, jazz, gospel, world, improvisation, etc.? Many vocal ensembles face this challenge in rehearsal as well as in performances featuring these musical styles. Innovative Choir Leading studies at RAMA Vocal Center in Aalborg provides the answers to meet this challenge.
The participants and teachers are part of many collective sessions and activities in an interdisciplinary environment, in order to accomplish a collaborative style of the summer camp. Singing, conducting, improvise, move & grove, vocal games, and exercises will be mixed with reflection and perspective. For the night session choir rehearsals, score preparation is required. PDF's and midi files will be sent out in advance to learn 3 pop/jazz arrangements as a singer in advance.
Topics and Teachers
The Intelligent Choir and Vocal Painting (VOPA) – professor Jim Daus Hjernøe (DK)
Singers' Tools – honorary professor Peder Karlsson (S)
Conductors' Toolbox – assistant professor Jesper Holm (DK)
Arranging & Interpretation – assistant professor Malene Rigtrup (DK)
Guest Teachers
Beatboxing – Senjka Danhieux (B) alias RoxorLoops
Concert Design – Astrid Vang-Pedersen (DK)
Top students from RAMA Vocal Center
Tentative Schedule
Monday
| | |
| --- | --- |
| 14:00 | Welcome session |
| 16:00 | BREAK |
| 16:45 | Workshops |
| 18:00 | Dinner |
| 19:30 | Evening session and Choir rehearsal |
| 21:30 | RAMA BAR (lounge at 4th floor) |
Tuesday-Thursday
| | |
| --- | --- |
| 09:15 | Warm-up |
| 09:45 | Workshops |
| 11:00 | BREAK |
| 11:45 | Workshops |
| 13:00 | LUNCH |
| 14:30 | Workshops |
| 15:45 | BREAK |
| 16:30 | Workshops |
| 17:45 | Dinner |
| 19:30 | Evening session and Choir rehearsal |
| 21:30 | RAMA BAR (lounge at 4th floor) |
---
Accommodation
RAMA is recommending Hotel Aalborg for your stay.
Special price for RAMA Vocal Center:
Single room: DKK 625,-/night incl. breakfast
Double room: DKK 950,-/night incl. breakfast
For booking contact Jan Jensen
Venue – Musikkens Hus in Aalborg, Denmark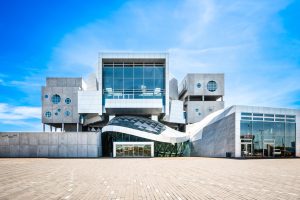 Musikkens Hus
Musikkens Plads 1
9000 Aalborg
Sign up – Conductors
Price: TBA. Food and accommodation are not included.
Seats: TBA
Sign up TBA
Vocal Ensembles
You can apply as a whole group of singers if you want to participate as a vocal ensemble. You will be scheduled with workshops, coaching, and a performance. The price is TBA DKK/vocal ensemble (TBA EUR). Please contact professor Jim Daus Hjernøe for further information.
Further information
Professor Jim Daus Hjernøe
RAMA Vocal Center
Take a look at the RAMA Vocal Center (Danish / English)
---
*) We reserve the right to make changes
We look forward to an inspiring summer camp experience together with you!