Cancelled: Trio Concert – Trio Contrado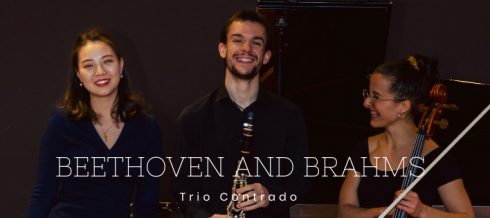 Trio Contrado is a clarinet trio with its roots from the Royal Academy of Music of Aarhus. After two years of playing together, it's time for the trio to say goodbye, as two of the three are soon to become masters of music – and will leave Aarhus for the time being.
They have actively participated in masterclasses and played several concerts, and for their last concert together they have picked their favorite repertoire.
Ivan being from Spain, Jialin from China and Maria from Norway they all bring their own colors to the stage, and together they create a mutual understanding of the music.
As one of the greatest composers of all time would be celebrating his 250 year birthday this year, they will start with a Beethoven's "Gassenhauer trio"; one of Beethoven's earlier works which has some of its inspiration from the busy lanes of Vienna 250 years ago. They will follow up with Brahms Clarinet trio in A-minor, which offers a mature romantic warmth as the instruments create a complex contrapuntal web while still highlighting their ability to blend.
Featuring:
Ivan Gomez Alonso, clarinet
Maria Kolby Sonstad, cello
Jialin Wu, piano
There will not be tickets for this concert - please come early.
More events