Soloist Concert – Patricia Martin, clarinet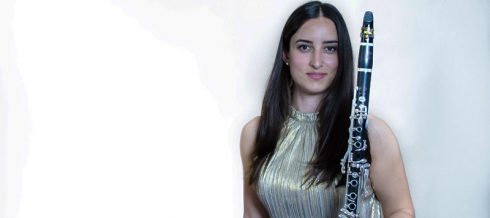 Patricia Martin plays music for klarinet and piano by Devienne, Saint-Saëns, Debussy and Messiaen.
FLÂNER is a concert dedicated to the French music written for Clarinet.
It contains a selection of 7 pieces written for this instrument in the 18th, 19th and 20th centuries – a trip across the Classical, Romantic, Impressionist and Contemporary periods, through the sound of the clarinet.
The word flâner doesn't have a precise translation, it has its origins in the 19th century and represents a mood or feeling, that writers and intellectuals of that time had when simply wandering around the streets of Paris, admiring the city, walking without a destination.
And that is just the way Martin pretend to inspire you during this concert: A walk through different periods, styles, shapes and constellations of music, simply admiring the art of French music.
See program.
Feat:
Júlia Cavaller Triay, flute, Maren Marie Tange, piano and Vitalija Gurviciute, piano.
There will not be tickets for this concert - please come early.
More events