Pre debut – Dominik Wizjan, piano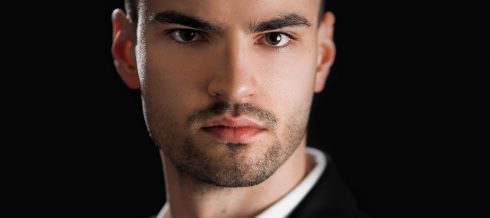 The concert is free, but a ticket and a valid Corona pass are required.
Book your ticket here: https://billet.musikhusetaarhus.dk/da/specialoffer/7qydtmmcocgiu
Polish born pianist Dominik Wizjan playing this concert in Aarhus before his debut concert in Copenhagen.
Program
Karol Szymanowski (1882-1937) – Preludes op. 1
no. 7 Moderato
no. 8 Andante ma non troppo
no. 9 Lento — Mesto
Ignacy Jan Paderewski (1860-1941) – Piano Sonata in E-flat minor, Op. 21
1. Allegro con fuoco
2. Andante ma non troppo
3. Allegro vivace
Rachmaninoff (1873-1943) – Suite No. 1 in G minor for 2 Pianos, Op. 5
1. Barcarolle. Allegretto, in G minor.
2. La nuit… L'amour… Adagio sostenuto, in D major. (The night…the love…)
3. Les Larmes. Largo di molto, in G minor. (The Tears)
4. Pâques. Allegro maestoso, in G minor. (Easter)
Ravel (1875-1937) – La Valse
Biography
Dominik Wizjan (b. 1994) is a Polish pianist. Inspired by his older brother, Dominik began his adventure with piano at the age of 6. As a student of the Feliks Nowowiejski State Secondary Music School in Szczecin, he took part in a range of national and international competitions, including: the VIII National Piano Festival "Chopin Interpretations of Young Pianists" in Konin-Żychlin (honourable mention, 2011), the I Apolinary Szeluto National Piano Festival in Słupce (1st prize, 2011), the XX International Fryderyk Chopin Piano Competition for Children and Youth in Szafarnia (honourable mention, 2012), and many others.
At the age of 17 (2011), Dominik made his debut with an orchestra in the Mieczyslaw Karlowicz Philharmonic in Szczecin. Shortly after, he was invited for Youth's Chopin Interpretations festival for the most prominent young pianists. In the same year, Dominik received an award from the President of the City of Szczecin for exceptional artistic achievements. After receiving a prize on the II West Pomeranian Piano Competition (2012), he was honoured to perform with a Polish-German orchestra Pomerania under the baton of Jacek Kraszewski.
After very successful years Dominik came to the conclusion that he ought to continue his piano education abroad. He decided to hone his talents at the Royal Danish Academy of Music in Copenhagen. During his last year of study in Poland, he has already been enrolled for a Bachelor programme in Amalie Malling's piano class. In 2015, Dominik received his Bachelor's degree. In 2018, after extremely fruitful years of collaboration with Marianna Shirinyan, he received the Master's degree. Immediately after graduation, Dominik got enrolled in the prestigious Advanced Postgraduate Diploma, continually, at the feet of Marianna Shirinyan.
During his studies in Denmark, Dominik eagerly participated in competitions. His last achievements include: 1st prize at RDAM Piano Competition in Copenhagen (2017), 1st prize in the V International Piano Competition in San Dona di Piave, Italy (2017) and 3rd prize in the I International Music Festival and Competition in Yerevan, Armenia (2017). As the winner of the V International Piano Competition in San Dona di Piave he was given the opportunity to release his debut album under the KNS Classical label. Following the tradition deeply-rooted in Polish culture, the record is devoted to etudes comprising works by Polish composers only. Beside pieces by Chopin and Szymanowski the CD includes two World premieres composed exclusively for Dominik by the prominent modern Polish composer Krzesimir Dębski.
Dominik is an active participant of various festivals, courses and masterclasses where he had opportunities to work with renowned pianists and professors, such as Kevin Kenner, Katarzyna Popowa-Zydron, Alberto Nose, Juhani Lagerspetz, Niklas Sivelov, and many others. He has played recitals in concert halls in Poland, Germany, Austria, Denmark, Sweden, Norway, Great Britain, Armenia and Italy.
Armenian-born Marianna Shirinyan is one of the most creative and in sought after pianists in Europe today. Her vibrant and virtuos musicianship puts her in demand, both as soloist and as chamber musician. Shirinyan plays with great sensitivity, understanding, technical brilliance and beauty of tone, which allows her to offer a wide range of repertoire. Her love for the music and her joy in sharing it with a larger audience are apparent in her performances.
She has received Danish Broadcasting Corporation's prestigious P2 award for her contribution to Danish music life and the critics prize of the association of Danish critics. She is a frequent guest at a string of international musicfestivals, among them the Schleswig-Holstein Music Festival, Bodensee Festival, the Schwetzinger Festspiele, MDR Summer Music Festival, Festspillene in Bergen.
Simultaneously she has won the reputation of being one of this generations leading pianists through solo appearances with orchestras as the Bavarian Radio Symphony Orchestra,Danish National Symphony Orchestra, Oslo, Helsinki and Copenhagen Philharmonic Orchestras, Munich Symphony Orchestra,Potsdammer Kammerakademie, Göteborg Symphony Orchestra, Orchestre Philharmonique de Nice to name a few. She enjoyed collaborations with conductors such as Michael Balke,Lawrence Foster, Zoltan Kocsis, Antonello Manacorda, Jun Märkl, Daniel Raiskin, Lan Shui,Thomas Søndergård,Marc Soustrot, Krysztof Urbanski and Joshua Weilerstein.
Shirinyan is a professor of piano at the Norwegian Academy of Music in Oslo, a Steinway artist and artistic director of the Oremandsgaard Chamber Music Festival in Denmark. From the summer 2020 also co-artistic director of the Valdres Sommersymfoni in Norway.Shirinyan has a bright discography. All the CD's has been received enthusiastically by international reviewers and listeners alike. Her latest release, the Fantasy for Piano and Orchestra by Louis Glass which she has recorded together with the Rheinische Philharmonie Koblenz under the baton of maestro Daniel Raiskin has been awarded the P2 prize of the Danish radio in 2018.
There will not be tickets for this concert - please come early.
More events