Kaleidoscope – Panorama Festival 2021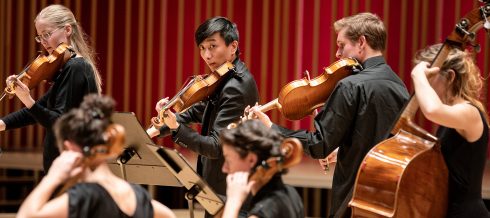 The concert is free, but a ticket and a valid Corona pass are required.
Book your ticket here: https://billet.musikhusetaarhus.dk/da/specialoffer/abk6i5w4uug5q
The Kaleidoscope concert is a part of the composition class' Panorama Festival 2021.
Program
Frederik Zeuthen: Feather Descent
Feather Descent is the first string quartet by Frederik Zeuthen (b. 1996) in two movements, commissioned by the Admeta Quartet. The title of the work refers first and foremost to the overall expression and atmosphere of the piece, which gives the impression of a feather steadily falling through the air with intervening sudden gusts of wind repeatedly elevating it, each time to begin its descent anew. This image is presented in the "falling" tonal language, its rhythmic motives and its always decelerating rhythms and tempi.
The piece also explores metamorphic ideas in the form of melodic echos bouncing between the different voices. Each time the motive is echoed from a voice to another it changes slightly, creating a series of tiny variations throughout the piece. This idea of metamorphic echoes is furthermore expressed on different levels in the piece; the highest level being between the two movements (where the second movement is an echo and reinterpretation of the first), the following level being between the different sections, and the lowest level being the small melodic fragments bouncing between the voices.
Admeta Quartet
Niklas Brandenhoff: 3 Vignettes for solo guitar
The three first of eight to be. Similar to the "Schweigende schritte" in its use of the pause. The pieces play with anticipation and intimacy in the concert situation.
August Frey Lydersen Bjerregaard, guitar
Josuè Blanco: Kaleidoscope – For solo piano, video and tape
Kaleidoscope  is  a  study  on  the  synesthetic  relationship  between  color  and  sound.  The  work explores  the  different  contrasts  between  light  and  colors  that  we  can  observe  thanks  to  a kaleidoscope and its translation to the full range of sounds that a piano can offer.
Michael Hope, piano
Niklas Brandenhoff: Shadows cast from thy eyes for clarinet and playback harp
In this piece, the clarinet plays three intimate monodies–for themselves. These songs are interrupted twice by the playback harp, distant in its physical absence on stage, making the clarinetist call (for someone) disparately through their instrument.
Joss Smith, clarinet
Sebastian Brix: how sweet it is to bask in sunlight
Sunlight. Like a sweet caress. Warm. How long have you been laying here? When does your breathing end and the sound of the waves begin? Remember. Remember this moment. Before it slips away. Remember. Remember.
August Frey Lydersen Bjerregaard, guitar
Niklas Brandenhoff: Schweigende schritte – 1st string quartet
In my first string quartet I place the audience, the musicians and myself in a 'tiny box'. Limiting the work to so sparse material that the question of a coherent work is raised. The work is in 3 parts.
Admeta String Quartet
More events