Concert feat. Trio Egmont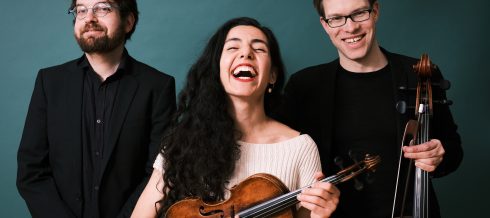 Violinist Luiza Labouriau is a student at post graduate level at RAMA, the Royal Academy of Music, Aarhus. At this concert she plays with her piano trio, Trio Egmont.
Founded in autumn 2019 by musicians based in Berlin and Leipzig, Trio Egmont combines historical awareness, radical freedom and a delicate sense of sound with an explosive joy in making music. In the summer of 2021 the trio won 1st prize and the Ries special prize at the first international competition "Beethoven in his time" for chamber music on historical instruments. The award also includes a new collaboration with the CD label NAXOS.
Words about Trio Egmont from the competition jury in "Beethoven in his Time" 2021: "They meet the most difficult challenges with breathtaking ease. Normal categories such as technical ability, understanding of style, phrasing or expression – everything at the highest level. But above all, it was their virtuosic creativity that delighted the jury. Their exuberant enthusiasm for experimentation develops a seductive attraction and seduces even the music into dreaming. Should one be forced to limit oneself to just one point, it is their ability to make every single musical phrase exciting, interesting and unexpected for the listener. "
Gilad Katznelson on fortepiano particularly contributes to the free sense of tempo and the plasticity of the ensemble with his inspiration from studies in Basel and Frankfurt, and from old, rare recordings from the childhood of musical recording technique. His intuitive feeling for the nature of the fortepiano invites his fellow players and  audience to dream themselves far from the hectic reality of modern everyday life.
The violinist Luiza Labouriau is characterised by a special beauty in her sound, freedom in musical communication, a great deal of fantasy and an unusual emotional depth in her playing. With her high energy and special stage presence, she wishes to continually reinvent the limits of what music can communicate and to discover new ways of sharing musical stories from early baroque to contemporary artworks.
The sensitive cellist Martin Knörzer connects the players of the trio with one another through his unique feeling for musical communication, teamwork and balance in the ensemble. Through many years as a chamber musician, Martin has developed a special feeling for rhythmic structures and balance and thereby opens the dams of inspiration to his fellow players and the audience. Martin Knörzer also plays modern and historical keyboard instruments on a very high level.
Program:
Joseph Woelfl (1773-1812): Trio pour le Piano Forte, Violon & Violoncelle Op. 5 Nr. 1 in G major (ca. 1795)
Ludwig van Beethoven (1770-1827): Trio pour le Piano-Forte, Violon et Violoncelle Op. 1 Nr. 3 in c minor (1793-5)
Niels Wilhelm Gade (1817-1890): Trio für Pianoforte, Violine und Violoncell Op. 42 (1862)
Clara Schumann, født Wieck (1819-1896): Trio für Pianoforte, Violine u. Violoncello Op. 17 (1846)
https://www.trioegmont.com/kalender/drmme-fra-romantikken-koncert-i-musikhuset-i-rhus
More events