Concert feat. Region Midtjyllands Ungdoms Big Band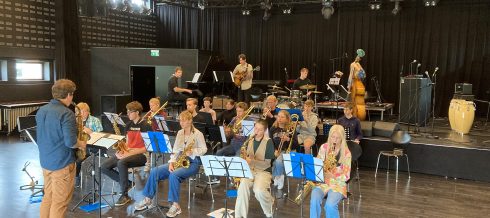 More info (in Danish): Click Danish in the top menu.
Line-Up:
1.alt Alberte Sandøe
2.alt Magnus Busborg
1.ten Jeppe Van Santen
2.ten Rose
Bariton Ida
1./2.trp Viktor Møller Jessen
1./2.trp Esben Vennegaard
3.trp Marie Rantala Sørensen
3. Trp Emil
4.trp Signe Marie Lund
4.trp Johanne Bruus
1.trb Joakim
2.trb Sune Aunsbjerg-Rudén
3.trb Arthur
3.trb Julie Jensen
4.trb Lucca
Guitar Dines Hoyer
Klaver Felix Berg Pedersen
Bas Kristine Bjorn
Trommer Tobias Poulsen
Dirigent. Jonas Enevoldsen
There will not be tickets for this concert - please come early.
More events