Concert feat. RAMA Winds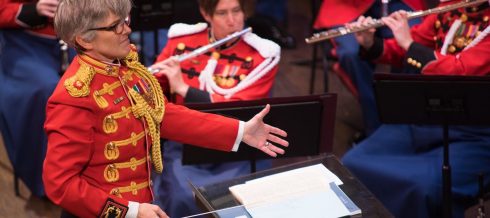 RAMA Symphonic Wind Band conducted by Michelle Rakers.
NOTE: Moved from Lukaskirken 8/11 19.30
The concert is free, but a ticket is required – book it here: https://billet.musikhusetaarhus.dk/da/specialoffer/pw4rxpassqqgs
American born conductor Michelle Rakers was the Senior Assistant Director for "The President's Own" United States Marine Band and Marine Chamber Orchestra from 2004 – 2018. In that capacity, she led the band and orchestra in countless high-profile programs at the White House, in Washington, D.C., and across the country. She conducted ensembles for White House State Dinners, advised and conducted ensembles for White House ceremonies, and led the band on many national tours.
Program
Mendelssohn: Ouverture in C
Percy Grainger: Molly on the shore and Colonial Song
Gustav Holst: Suite no.1
Aron Copland: From Appalachian Spring
Carl Nielsen: Parafrase over Nærmere Gud til dig
See program.
There will not be tickets for this concert - please come early.
More events