Concert feat. CRAS Ensemble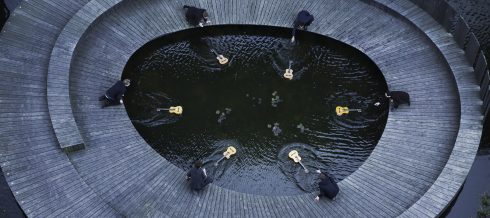 Music for six classical guitars – by six modern Danish composers!
SIX SENSES SUITE (2019)
Christos Farmakis (GR, 1981-) "Rainlight" (Hearing)
Ivan Olsen (DK, 1975-) "Syn" (Sight)
John Frandsen (DK, 1956-) "Crisp'nSpicy" (Taste)
Hugi Gudmundsson (DK, 1977-) "Hyperosmia" (Smell)
Jeppe Just Christensen (DK, 1978-) "Sextet" (Touch)
Peter Bruun (DK, 1968-) "Variations on a Hunt" (Sixth sense)
Ruta Vitkauskaite (LT, 1984-) "Byoyomi" (2020)
Lasse Winterbottom (DK, 1993-) "Electromagnetic Mango" (2018)
CRAS Ensemble
Henrik Bay Hansen
Peter Oldrup
Mikkel Egelund
Uffe Carl Hansen
Søren Eriksen
Jacob Nørrelund
(all on guitar)
"CRAS (lat: tomorrow) is an ensemble of 6 guitarists from Copenhagen, Denmark, dedicated to the music and arts of our time." (From website)
Photo: Trine Pihl Stanley
There will not be tickets for this concert - please come early.
More events