Composer's Concert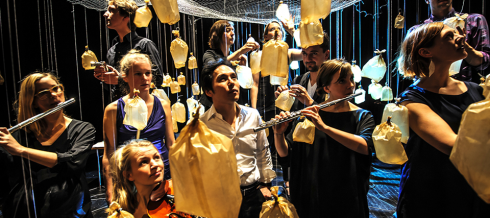 The concert is free, but a ticket and a valid Corona pass are required
Book your ticket here: https://billet.musikhusetaarhus.dk/da/specialoffer/o57ci7q53hrs6
Curious Chamber Players
Renowned Swedish New Music ensemble Curious Chamber Players perform two new compositions by members of RAMA composition department, Noemi Schrader and Matthew Grouse.
CCP has since its inception in 2003 explored a wide range of new music repertoire: from hard-core modernism to graphically notated chance music, from minimalism to noise music, and from electronics to improvisation. The ensemble has experimented with framing concerts and sound installations with a unique use of time and space, each different according to the venue and situation.
Experimentation is at the core of CCP's work and past projects have included bringing other art forms such as video improvisation, theatre, Tarot meditation, dance, poetry, and fragrance. Other than conventional instrumentation (flute, clarinet, percussion, piano, violin, and cello), CCP extends its sound world through integrating everyday objects into their projects such as balloons, kitchen tools, and the infamous "beckoning cat".
Program
Matthew Grouse: ctrl+Y (duration: ca.35')
ctrl+Y continues my interest in composing with sounds, objects and behaviours from everyday life, as well as incorporating documentary techniques into my music. With the opportunity to write for CCP, I've been able to develop these ideas over a larger-scale form. The piece is written for 4 performers typing at computer keyboards, playing instruments (flute, guitar, sampler keyboard and percussion) and vocalising. Over the course of the piece, each performer's typing triggers various electronic processes, synthesised sound and recorded audio. I'm both interested in highlighting the inherent musicality in something as quotidian as typing, whilst also playing with the de-familiarisation of everyday experience.
Noemi Schrader: Catalogue I  (duration: ca.30')
a space surrounded by a curtain
a language a country collected in poems that will emerge for a while, wander around and disappear again… an urge to communicate through the voice of a human a marble an electric impulse
Featuring
Hannah Törnell Wettermark – Flute, objects, and electronics
Frederik Munk Larsen – Guitar, objects, and electronics
Anna Christensson – Keyboard, objects, and electronics
Rei Munakata – Percussion, objects and electronics
Vocalists in Catalogue I:
Anders Hjortdal Andersen
Noemi Schrader
Mads Borre
Ditte Goard
There will not be tickets for this concert - please come early.
More events