Debut Concert – Patricia Martin, clarinet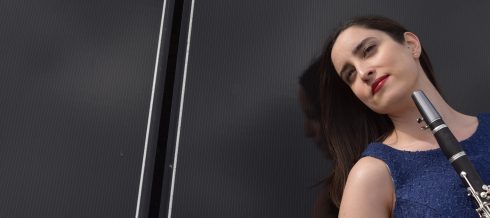 The concert is free, but a ticket and a valid Corona pass are required
Book your ticket here: https://billet.musikhusetaarhus.dk/da/specialoffer/nzoeit6tqlyee
The concert will also be streamed on Facebook – link will follow.
Closing doors allows us to open new ones
With the upcoming Debutkoncert, Patricia Martín completes her solo studies at the Royal Academy of Music. Patricia has travelled the world in a constant quest for enlightenment, with The Royal Academy of Music as headquarters, and the teacher Mathias Kjøller as guide and source of inspiration.
One of her greatest experiences, and a turning point in Patricia's approach to life and music making, was meeting Professor Yehuda Gilad. He is one of the most influential musicians of the moment, and his experience, musical approach and philosophy have had a great influence on Patricia as a musician and person: First why, then how.
The spirit of this Debutkoncert is inspired by life cycles, where we open and close doors that allow us to keep walking through the path of life.
By exploring the music written by Bach, Weber, Chausson and Messiaen, Patricia will create an atmosphere, which encourages the audience to undertake an introspective look at themselves, and hopefully find some answers to their own whys and hows.
This dynamic atmosphere lies somewhere between Baroque and Contemporary music functioning as a comforting halo around us, sometimes filling our hearts with joy and serenity, sometimes with suffering and desperation.
Program
Johann Sebastian Bach: Violin Sonata No.1 in g minor, BWV 1001 (for clarinet)
Carl Maria von Weber: Gran Duo Concertant, Op.48
Ernest Chausson: Andante et Allegro
– pause –
Olivier Messiaen: Quartet for the End of Time
Featuring:
Romane Queyras, Rebecca de Carvalho e Silva Fuglsig, Anne Sofie Sloth Nilausen, Maren Marie Tange og Elisabeth Hanke.
There will not be tickets for this concert - please come early.
More events