Concert feat. Admeta String Quartet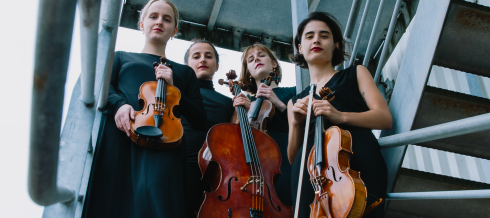 Welcome!
We are an Aarhus-based string quartet consisting of four strong-willed ladies: Freja Guldberg Larsen (violin), Selma Trammitzke Milling (violin), Maria Vara de Alba (viola) and Maria Kolby Sonstad (cello).
The name Admeta was established on a warm November evening in 2019 when we were all studying on our second year at RAMA. The four of us had a common aim to start a quartet which had the music and the unity around it as its goal. To create something that touches and moves people and take part in the connection that flourishes when people share the same experience.
We represent three different nationalities, Danish, Norwegian, and Spanish respectively, which was also a source of inspiration for our program this evening. From the folky tunes in Wood Works to intense darkness and blissful harmonies in Grieg's String Quartet; this evening offers temperament, charming melodies and good vibes.
Looking forward to seeing you!
As covid-19 still is very much a reality we will of course take all precautions needed, such as keeping our distance and disinfecting our hands – meaning there will be a limited number of seats at the concert. Come a little earlier if you want to be sure to get a spot!
Program:
Wood Works
Arrangeret af Den Danske Strygekvartet
Joaquín Turina (1882-1949): La Oración del Torrero ("The Prayer of The Bullfighter")
Edvard Grieg (1843-1907): Strygekvartet nr. 1 i G-mol
There will not be tickets for this concert - please come early.
More events