Colors in Music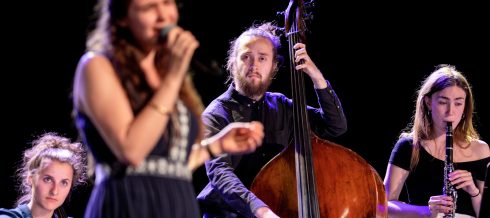 "Colors in Music" is a collaborative project between students and teachers from RAMA Aalborg and the National University of Music, Bucharest (Romania). Musicians from the Aalborg Symphony Orchestra and members of the Center for Danish Jazz History in Aalborg are also taking part in the project.
The idea behind the project is to let students from classical music and jazz meet in an interplay, where they explore what musicians from two different music traditions can learn from each other. In this way, we want to do away with some of the boundaries and prejudices that are often encountered in the music world.
This first of three meetings will take place in Musikkens Hus, Rytmisk Sal, Monday 27 September at 18.30. From here, the Danish musicians will play for the Romanian students in a live streaming, just as there will be a live dialogue between Aalborg and Bucharest.
There is free admission to the musical meeting.
Some of the musicians you can meet here are:
Camille Guernot flute
Sheila Popkin bassoon
Anna Dahl viola
Marius Ungureanu viola
Jonathan Clarke trumpet
Matias Johannsson tuba
Kenneth Dahl Knudsen bass
Jan Sedlak (composer) bass
Eyal Lovett (composer) piano
Andrei Petrache (composer / arranger) Bucharest
In addition: Dan Dediu from Bucharest and Tore Mortensen from Aalborg.
More meetings: 26/10 and 30/11 at 18.3o.
There will not be tickets for this concert - please come early.
More events