UNM Festival – Sinfonietta+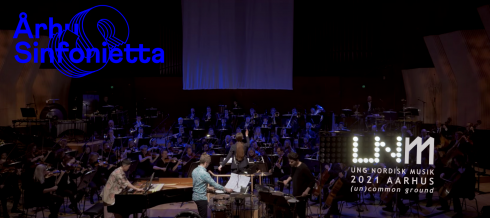 Tickets will be available early August
Aarhus Sinfonietta, in collaboration with students from Det Jyske Musikkonservatorium, presents our festival opening concert, Sinfonietta+. Conductor Tom Goff leads the ensemble in performances of diverse works ranging from purely instrumental, to audiovisual and operatic. Copenhagen-based trio, NEKO3, joins as soloists in Xavier Bonfill's flashy YES FOR NO. The concert's second half plays host to appearances by Johanna Nylund, Kirsten Voss, and Richard Låås, some of Denmark's rising vocal talents.
Xavier Bonfill [DK] YES FOR NO
Soloists:
Neko3
Piano: Fei Nie
Percussion: Kalle Hakosalo
Percussion: Lorenzo Colmobo
Robin Lilja [SE] Confession
Fredrik Ekenvi [SE] Simulation No. 2
Tze Yeung Ho [NO] Hvorfor Pusen?
Soloists:
Soprano: Johanna Nylund
Mezzo: Kirsten Voss
Baritone: Richard Låås
Linnea Landström [SE] Passager
Soloist:
Soprano: Johanna Nylund
Aki Knaappila [FI] Kolme laulua Tomi Kontion runoihin
Conductor: Tom Goff
Aarhus Sinfonietta with students from Det Jyske Musikkonservatorium
Alle events