DIEM Elektro: Maria W. Horn (S)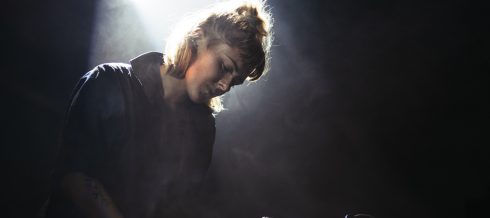 Koncert med den svenske elektroniske musiker Maria W. Horn. Alle interesserede er velkomne.
Koncerten er arrangeret af DIEM, Dansk Institut for Elektronisk Musik, ved Det Jyske Musikkonservatorium.
Om Maria W. Horn
Maria W Horn is a composer hailing from the north of Sweden, based in Stockholm since 2011.
Horn is interested in the manipulation of time and space through sonic extremes – oscillating between minimalist structures and piercing power electronics utilizing both digital and analog synthesis as well as acoustic instruments and audiovisual components.
Her work examines aspects of human perception – how audiovisuality and overload/loss of perceptual stimuli can conspire to transcend everyday life and invoke alternate mental states. She is a part of Sthlm Drone Society – an association working to promote slow and gradually evolving timbral music, and co-operates the label XKatedral.
Notable performances and festival apperances include MUTEK Mexico City, Insomnia Festival Tromsø, CTM Festival Berlin, Copenhagen's Organ Sound Art Festival, MUTEK Montreal, Counterpulse San Francisco, Euphonic Festival Barcelona, Göteborg Art Sounds, Open Source Art Festival in Gdansk, DAVE Festival Dresden, Lumen Project Stockholm – and a permanent installation project at Luleå Biennial, one of the most ancient and prestigious culture institutions in Sweden, built inside the Vita Duvans panopticon prison.
Photo: Henrik Hellstrom
Der udstedes ikke billetter til denne koncert – kom i god tid.
Alle events